The National Park on 180 m²
We look forward to welcoming you to the National Park soon!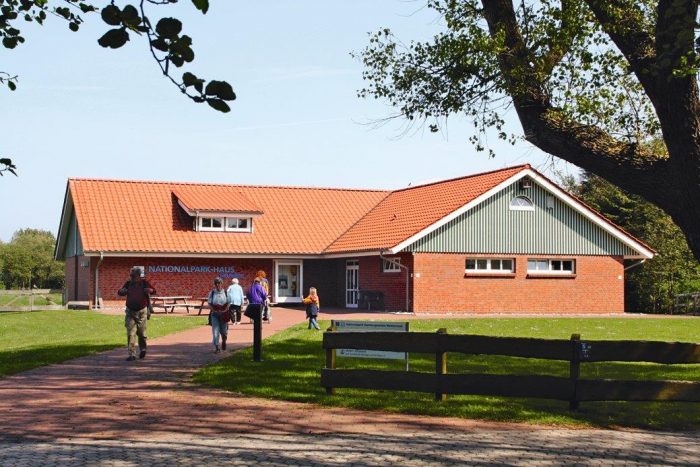 The National Park House on Neuwerk is the information centre of the Hamburg Wadden Sea National Park and Biosphere Reserve. It is located in the centre of the island just 200 m from Neuwerk Tower. The opening hours—like all life on the island—depend on the tides. Admission is free.
On around 180 m² of exhibition space, you will gain insights into the island's history, the formation of the Wadden Sea and learn about the typical flora and fauna of Neuwerk and its two small 'sister' islands Scharhörn and Nigehörn. The focus is on the enormously rich bird life. Special attraction: the large tidal basin, where you can experience the tide—the engine of the Wadden Sea habitat—up close for 90 minutes.
Groups of all kinds can book an event room right next to the exhibition with a large panorama window and a view of the meadows: Educational and informational materials of all kinds are available, as are the 3 Neuwerk crime scene thrillers. More here. The gallery on the upper floor offers art and specialist exhibitions. In summer 2020, the history of the bird watchers on Scharhörn was shown with contemporary photos and watercolours.
If you have any questions or would like a guided tour of the exhibitions, you are always welcome to contact the staff of the Jordsand Association. Most of the guided tours and events offered by the National Park and the Jordsand Association also start from here.
Virtual walk through the Neuwerk National Park House
Here you can take a virtual tour of the Neuwerk National Park House. But there is more to experience: During an on-site visit, there are also many interesting things to explore and discover in the exhibition at numerous interactive stations.
© Landesbetrieb Geoinformation und Vermessung Hamburg 2020
CONTACT
Nationalpark-Haus Neuwerk
Insel Neuwerk 6 (fast neben dem Neuwerker Turm)
27499 Hamburg-Insel Neuwerk
Phone: +49 4721 395 349
Email: np-haus@wattenmeer-hamburg.de
Verein Jordsand zum Schutze der Seevögel und der Natur e.V.
Phone: +49 4721 395 349 (same telephone number)
Fax: +49 4721 396 855
Email: carolin.rothfuss@jordsand.de
www.jordsand.eu
The Neuwerk National Park House is a joint facility of the Authority for the Environment, Climate, Energy and Agriculture as the operator and the Vereins Jordsand as the supervising association.